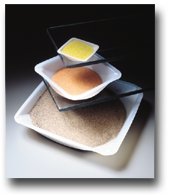 Designed for convenience, these polystyrene dishes assure the user
of high uniformity, stability, and dependability.
Features a round footprint for balance platform stability.
Contoured sides for easy and secure handling.
Flexible for dependable sample pouring.
Safe for conventional heating to 200ºF.
SKU
Description
Size
Price
Buy
02L4397
Weigh Boat, 1-1/2 x 1-1/2 x 1/4

1.5 x 1.5 x .25

$

36.00

(500/pack)

02L4398

Weigh Boat, 3-1/2 x 3-1/2 x 1

3.5 x 3.5 x 1

$

59.00

(500/pack)

02L4399

Weigh Boat, 5-1/2 x 5-1/2 x 7/8

5.5 x 5.5 x .875

$

97.00

(500/pack)
Anti-Static Weigh Boats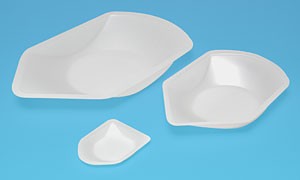 Anti-Static Pour Boats with pouring spouts are ideal for dispensing
powdered and liquid materials.
Produced with a special grade polystyrene that will resist diluted acids,
aqueous solutions, alcohols and bases.
Non-reactive with most substances and suitable for weighing static affected materials.
Will withstand temperatures up to 80ºC.
SKU
Description
Size
Price
Buy
02L4547

Anti-Static Weighing Dish with Pour Spout, 20ml

20 ml

$

31.00

(500/case)

02L4548

Anti-Static Weighing Dish with Pour Spout, 120ml

120ml

$

49.00

(500/case)

02L4549

Anti-Static Weighing Dish with Pour Spout, 240ml

240ml

$

77.00

(500/case)