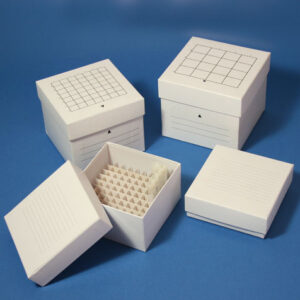 These cardboard storage boxes are designed for the compact storage of sample tubes, cryogenic vials and centrifuge tubes.
They have a liquid resistant coating and are designed for use in refrigerator and cryogenic freezer systems.
•Temperature range: -196o to +121o C
•Each box has a liquid resistant coating.
Assorted colors are available for special order.
2″ Tall Tubes
SKU
Description
Price
Buy
11L5783

64 place (8 X 8), White – Holds 2″ tall X 15mm wide Vials/Tubes

$

225.00

(96/Case)

11L5784

81 place (9 X 9), White – Holds 2″ tall X 13mm wide Vials/Tubes

$

225.00

(96/Case)

11L5784R

81 place (9 X 9), Red – Holds 2″ tall X 13mm wide Vials/Tubes

$

225.00

(96/Case)

11L5785

100 place (10 X 10), White – Holds 2″ tall X 12mm wide Vials/Tubes

$

225.00

(96/Case)
3″ Tall Tubes
SKU
Description
Price
Buy
11L5786

64 place (8 X 8), White – Holds 3″ tall X 15mm wide Vials/Tubes

$

145.00

(48/Case)

11L5787

81 place (9 X 9), White – Holds 3″ tall X 13mm wide Vials/Tubes

$

145.00

(48/Case)

11L5788

100 place (10 X 10), White – Holds 3″ tall X 12mm wide Vials/Tubes

$

152.00

(48/Case)