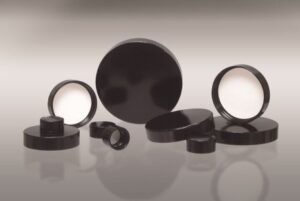 Phenolic Pulp/Vinyl Lined Caps are perfect for general use. The liner is made of a vinyl coating applied to high density polyethylene coated paper and then it is laminated to pulpboard. This general purpose liner is commonly used for food, beverage, medical and chemical applications packed at less than 120° F.
Common uses include mild acids, alkalis, solvents, alcohols, oils and aqueous products.
Not recommended for active hydrocarbons or bleaches.
SKU
Description
Price
Buy
22L4175

8mm Black Phenolic Screw Cap with Pulp/Vinyl lined closure

$

0.12

(1/each)

22L4176

13mm Black Phenolic Screw Cap with Pulp/Vinyl lined closure

$

0.07

(1/each)

22L4177

15mm Black Phenolic Screw Cap with Pulp/Vinyl lined closure

$

0.07

(1/each)

22L4178

18mm Black Phenolic Screw Cap with Pulp/Vinyl lined closure

$

0.09

(1/each)

22L4179

20mm Black Phenolic Screw Cap with Pulp/Vinyl lined closure

$

0.09

(1/each)

22L4180

22mm Black Phenolic Screw Cap with Pulp/Vinyl lined closure

$

0.10

(1/each)

22L4181

24mm Black Phenolic Screw Cap with Pulp/Vinyl lined closure

$

0.12

(1/each)

22L4183

28mm Black Phenolic Screw Cap with Pulp/Vinyl lined closure

$

0.14

(1/each)

22L4184

33mm Black Phenolic Screw Cap with Pulp/Vinyl lined closure

$

0.19

(1/each)

22L4185

38mm Black Phenolic Screw Cap with Pulp/Vinyl lined closure

$

0.24

(1/each)

22L4186

43mm Black Phenolic Screw Cap with Pulp/Vinyl lined closure

$

0.27

(1/each)

22L4187

45mm Black Phenolic Screw Cap with Pulp/Vinyl lined closure

$

0.29

(1/each)

22L4188

48mm Black Phenolic Screw Cap with Pulp/Vinyl lined closure

$

0.32

(1/each)

22L4189

53mm Black Phenolic Screw Cap with Pulp/Vinyl lined closure

$

0.35

(1/each)

22L4190

58mm Black Phenolic Screw Cap with Pulp/Vinyl lined closure

$

0.40

(1/each)

22L4191

63mm Black Phenolic Screw Cap with Pulp/Vinyl lined closure

$

0.49

(1/each)

22L4192

70mm Black Phenolic Screw Cap with Pulp/Vinyl lined closure

$

0.62

(1/each)

22L4193

83mm Black Phenolic Screw Cap with Pulp/Vinyl lined closure

$

0.84

(1/each)

22L4194

89mm Black Phenolic Screw Cap with Pulp/Vinyl lined closure

$

0.94

(1/each)