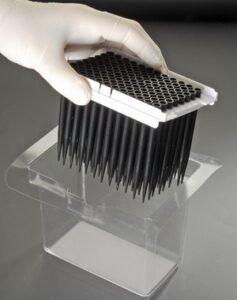 Comprehensive line of tips for Tecan®, Aurora Biomed and PerkinElmer® automation systems.
These tips are manufactured to stringent specifications under strict process controls and assembled via automation to ensure consistently superior performance and quality.
Designed to be compatible with designated workstations which ensures a consistent fit.
Tips designated as UltraD are manufactured for greater sample delivery.
All Tips are certified RNase-/DNase-free and nonpyrogenic.
Available in nonsterile, sterile, non-filtered and filtered.
Clear and Conductive black polypropylene tips are available in 96-well format as well as in hanging tip rack format.
Tecan/PerkinElmer Workstations
SKU
Description
Pkg
Price
Buy
L1709

20ul Conductive Robotic Tip, Blister Pack Format

packed 96/wafer

$

240.00

(2304/case)

L1710

20ul Conductive Robotic Tip, Blister Pack Format

packed 96/wafer, Cardboard pack

$

617.00

(6912/case)

L1711

20ul Conductive Robotic Tip, Sterile, Blister Pack Format

packed 96/wafer

$

273.00

(2304/case)

L1712

20ul Conductive Filter Robotic Tip, Sterile, Blister Pack Format

packed 96/wafer

$

323.00

(2304/case)

L1713

50ul Conductive Robotic Tip, Blister Pack Format

packed 96/wafer

$

240.00

(2304/case)

L1714

50ul Conductive Robotic Tip, Blister Pack Format

packed 96/wafer, Cardboard pack

$

617.00

(6912/case)

L1715

50ul Conductive Robotic Tip, Sterile, Blister Pack Format

packed 96/wafer

$

273.00

(2304/case)

L1716

50ul Conductive Filter Robotic Tip, Sterile, Blister Pack Format

packed 96/wafer

$

323.00

(2304/case)

L1717

200ul Conductive Robotic Tip, Blister Pack Format

96/wafer

$

231.00

(2304/case)

L1718

200ul Conductive Robotic Tip, Cardboard Format

96/wafer

$

599.00

(6912/case)

L1719

200ul Conductive Robotic Tip, Sterile, Blister Pack Format

96/wafer

$

256.00

(2304/case)

L1720

200ul Conductive Filter Robotic Tip, Sterile, Blister Pack Format

96/wafer

$

314.00

(2304/case)

L1721

1000ul Conductive Robotic Tip, Blister Pack Format

96/wafer

$

148.00

(2304/case)

L1723

1000ul Conductive Robotic Tip, Sterile, Blister Pack Format

96/wafer

$

166.00

(2304/case)

L1724

1000ul Conductive Filter Robotic Tip, Sterile, Blister Pack Format

96/wafer

$

194.00

(2304/case)

L1725

20ul Robotic Tip, Blister Pack Format

96/wafer

$

191.00

(2304/case)

L1726

20ul Robotic Tip, Sterile, Blister Pack Format

96/wafer

$

208.00

(2304/case)

L1727

20ul Filter Robotic Tip, Sterile, Blister Pack Format

96/wafer

$

258.00

(2304/case)

L1728

50ul Robotic Tip, Blister Pack Format

96/wafer

$

191.00

(2304/case)

L1729

50ul Robotic Tip, Sterile, Blister Pack Format

96/wafer

$

208.00

(2304/case)

L1730

50ul Filter Robotic Tip, Sterile, Blister Pack Format

96/wafer

$

258.00

(2304/case)

L1731

200ul Robotic Tip, Blister Pack Format

96/wafer

$

191.00

(2304/case)

L1732

200ul Robotic Tip, Sterile, Blister Pack Format

96/wafer

$

208.00

(2304/case)

L1733

200ul Filter Robotic Tip, Sterile, Blister Pack Format

96/wafer

$

258.00

(2304/case)

L1734

1000ul Robotic Tip, Blister Pack Format

96/wafer

$

127.00

(1536/case)

L1735

1000ul Robotic Tip, Sterile, Blister Pack Format

96/wafer

$

139.00

(2304/case)

L1736

1000ul Filter Robotic Tip, Sterile, Blister Pack Format

96/wafer

$

172.00

(2304/case)