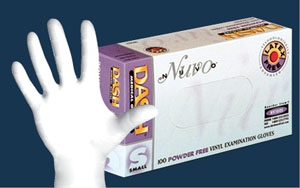 Opaque White Powder Free Vinyl Exam Gloves.
These are the most amazing and comfortable vinyl exam gloves you'll find. DASH Nuvo vinyl gloves are soft, form fitting and are specially designed to retain the superior elongation properties found in natural latex normally absent from most synthetics such as vinyl. Available in sizes S-M-L-XL.
Prices subject to change, contact us at [email protected] for current pricing.
SKU
Description
Size
Price
Buy
05L3727

Nuvo Vinyl Gloves S- 10 packs/case

Small

$

20.00

(100/pack)

05L3728

Nuvo Vinyl Gloves M-10 packs/case

Medium

$

20.00

(100/pack)

05L3729

Nuvo Vinyl Gloves L-10 packs/case

Large

$

20.00

(100/pack)

05L3730

Nuvo Vinyl Gloves XL-10 packs/case

X-Large

$

20.00

(100/pack)