Sci-Spense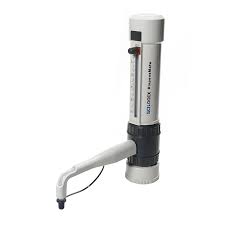 SCI-Spense Bottletop Dispensers Features:
Fully autoclavable
4 sizes cover the volume range 0.5-50ml
Quick and precise volume adjustment
Anti-drip cap prevents accidental discharge
Easy to clean and maintain, tool supplied
Chemical resistant to most aggressive liquids and acids
Dispensers come with adapters (GL25, GL28, GL32, GL38 & S40mm) to fit all common lab bottles
1 YEAR WARRANTY
Sci-Spense2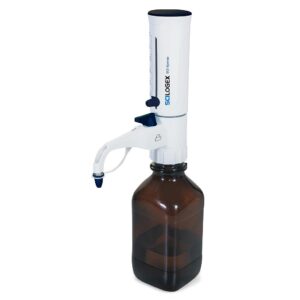 The SCI-Spense2 range of variable volume bottle-top dispensers are available in five fully adjustable sizes. All models are fitted with a reagent recovery tap, anti-drip caps and come with six adapters to fit all common sized reagent bottles. Bottles are sold separately.
This model features a seamless, smooth action piston with strong chemical resistance which is easily removed for cleaning.
Excellent chemical resistance
Fully autoclavable at 121°C
Accuracy <+/- 0.5%, Precision <+/- 0.2% at maximum volume
Reagent recovery function reduces waste during priming
Fast, reliable and reproducible volume locking mechanism
Easy to disassemble and clean, minimum maintenance
With 6 different adapters for reagent bottles of various sizes
For liquid with vapor pressure up to 500mbar, viscosity up to 500mm2/s, temperature up to 40°C, density up to 2.2g/cm3
Flexible filling tube adapts to reagent bottles of various sizes
1 year warranty
SKU
Description
Price
Buy
30L5040

0.5-5ml SCI-Spense bottletop

$

198.00

(1/each)

30L5042

0-10ml SCI-Spense bottletop

$

198.00

(1/each)

30L5043

2.5-25ml SCI-Spense bottletop

$

289.00

(1/each)

30L5044

5-50ml SCI-Spense bottletop

$

289.00

(1/each)

30L5046

0.5-5mL SCI-Spense2 bottletop dispenser, 45mm thread, c/w 6 adapters

$

550.00

(1/each)

30L5047

1-10mL , SCI-Spense2 bottletop dispenser 45mm thread, c/w 6 adapters

$

550.00

(1/each)

30L5048

2.5-25mL SCI-Spense2 bottletop dispenser 45mm thread, c/w 6 adapters

$

550.00

(1/each)

30L5049

5-50mL SCI-Spense2 bottletop dispenser 45mm thread, c/w 6 adapters

$

638.00

(1/each)

30L5050

10-100mL SCI-Spense2 bottletop dispenser 45mm thread, c/w 6 adapters

$

638.00

(1/each)