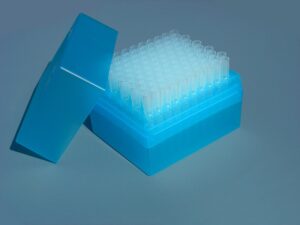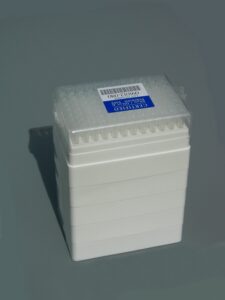 These standard tips come in both universal fit and pipettor specific varieties.
All tips are certified RNase Free, DNase Free & Endotoxin Safe.
Items listed as sterile are processed by e-beam radiation to ensure proper sterilization.
Tips designated as UltraD are manufactured for greater sample delivery.
Conveniently packaged in bulk and racked options.
SKU
Description
Pkg
Color
Price
Buy
L2110
.1-10ul UltraD Universal Pipet Tips, Pipetman P2/P10 Comp.

Bulk

Clear

$

26.00

(1000/case)

L2111

.1-10ul UltraD Universal Pipet Tips, Pipetman P2/P10 Comp.

96/rack

Clear

$

56.00

(960/case)

L2112

.1-10ul UltraD Universal Pipet Tips, Pipetman P2/P10 Comp., Sterile

96/rack

Clear

$

60.00

(960/case)

L2113

.1-10ul Universal Pipet Tips, Pipetman P2/P10 Comp., Clear

Bulk

Clear

$

25.00

(1000/case)

L2114

.1-10ul Universal Pipet Tips, Pipetman P2/P10 Comp., Clear

96/rack

Clear

$

45.00

(960/case)

L2115

.1-10ul Universal Pipet Tips, Pipetman P2/P10 Comp., Clear, Sterile

96/rack

Clear

$

49.00

(960/case)

L2116

.1-10ul Universal Pipet Tips, Pipetman P2/P10 Comp., Clear

96/stackrack

Clear

$

25.00

(480/case)

L2117

.1-10ul UltraD Universal Pipet Tips, Pipetman P2/P10 Comp., Extended Length, Clear

Bulk

Clear

$

26.00

(1000/case)

L2118

.1-10ul UltraD Universal Pipet Tips, Pipetman P2/P10 Comp., Extended Length, Clear

96/rack

Clear

$

52.00

(960/case)

L2119

.1-10ul UltraD Universal Pipet Tips, Pipetman P2/P10 Comp., Extended Length, Clear, Sterile

96/rack

Clear

$

60.00

(960/case)

L2120

.1-10ul Universal Pipet Tips, Pipetman P2/P10 Comp., Extended Length, Clear

Bulk

Clear

$

25.00

(1000/case)

L2121

.1-10ul Universal Pipet Tips, Pipetman P2/P10 Comp., Extended Length, Clear

96/rack

Clear

$

45.00

(960/case)

L2122

.1-10ul Universal Pipet Tips, Pipetman P2/P10 Comp., Extended Length, Clear, Sterile

96/rack

Clear

$

49.00

(960/case)