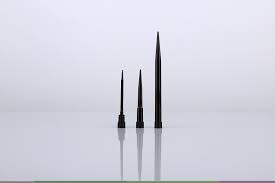 1. Medical-grade black conductive polypropylene (PP) materials.
2. Electron beam sterilization: safe and fast, without chemical residue.
3. Tips are packed in separate cavities with uniform conductivity: tips of each box share the same cavity number to ensure the product traceability and the conductivity uniformity and to improve the accuracy of experimental results, greatly reducing the difference between individual products.
4. Smooth inner surface: the unique process technology ensures that the tips have smooth inner surfaces, therefore greatly reducing the amount of residual liquid.
5. Super hydrophobicity: the porous tissue filtration by filter tip ensures optimum performance and the super hydrophobicity of the tip forms a strong barrier against aerosols and eliminates the risk of sample cross-contamination.
6. Strong package: the high-strength blister card outer package with thickened wall, which is impact-resistant and dropping-resistant, ensures the integrity and safety of the product under harsh transport conditions.
7. Good air tightness and adaptability: the structure mapping is conducted per the original adapter and the proven injection-molding ensures that the products have good air tightness and adaptability, improving the mechanical precision of the products during work.
8. Strict quality management and control test: Manufactured in a 100-thousand grade clean plant, Effective quality inspections are conducted for strict quality management and control per the client's needs, including tests for DNA, RNA, proteases, and pyrogens.
9. Air tightness test: precise equipment are used to test the air tightness between the tip and the adapter, to ensure good air tightness for each batch of products.
10. Tests for resistance and CV values: a certain number of products are sampled for each batch for inspection, which is conducted using precise and unique measuring tools to ensure the accuracy and reliability of the test results to ensure the uniform conductivity of products.
SKU
Description
Pkg
Price
Buy
29L8430

50ul Conductive Robotic Tip, Sterile, Unfiltered,  Blister Pack Format

packed 96/wafer

$

259.00

(2304/case)

29L8431

50ul Conductive Robotic Tip, Sterile, Filtered,  Blister Pack Format

packed 96/wafer

$

298.00

(2304/case)

29L8432

300ul Conductive Robotic Tip, Sterile, Unfiltered,  Blister Pack Format

packed 96/wafer

$

259.00

(2304/case)

29L8433

300ul Conductive Robotic Tip, Sterile, Filtered,  Blister Pack Format

packed 96/wafer

$

278.00

(2304/case)

29L8434

1000ul Conductive Robotic Tip, Sterile, Unfiltered,  Blister Pack Format

packed 96/wafer

$

354.00

(2304/case)

29L8435

1000ul Conductive Robotic Tip, Sterile, Filtered,  Blister Pack Format

packed 96/wafer

$

398.00

(2304/case)