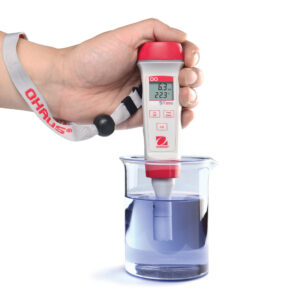 STARTER PEN METERS
Compact Design for Fast, Convenient Electrochemistry Measurement At Your Fingertips
After more than a century of perfecting the art of measurement through our durable weighing products, OHAUS precision is now available in a line of pen meters that provide accurate measurement of pH, oxidation-reduction potential (ORP), conductivity, salinity, and total dissolved solids (TDS). Starter pen meters are the economical option when you are simply looking for meters that will provide accurate measurement without restriction.
Small, economical pen meters offer simple, fast, and straightforward operation.
With durable IP67 waterproof ABS housing, protective sensor cap, and an automatic shutdown feature that preserves battery life, OHAUS pen meters can endure consistent use in rough, wet environments.
Equipped with a wrist strap to prevent accidental drop and damage.
SKU
Description
Price
Buy
24L6970

ST10 Pen pH Meter, Range 0-14, Resolution .1pH, Accuracy .1pH

$

61.00

(1/ea)

24L6971

ST20 Pen pH Meter, Range 0-14, Resolution .01pH, Accuracy .05pH

$

104.00

(1/ea)

24L6972

ST10C-A Pen conductivity Meter, Range 0-199.9 us/cm, Resolution 0.1 us/cm

$

81.00

(1/ea)

24L6973

ST10C-B Pen conductivity Meter, Range 0-1999 us/cm, Resolution 1 us/cm

$

81.00

(1/ea)

24L6974

ST10C-C Pen conductivity Meter, Range 0-19.99 ms/cm, Resolution 10 us/cm

$

81.00

(1/ea)

24L6975

ST20C-A Pen Conductivity Meter, Range 0-199.9 us/cm; 0-99 C, Resolution 0.1 us/cm

$

119.00

(1/ea)

24L6976

ST20C-B Pen Conductivity Meter, Range 0-1999 us/cm; 0-99 C, Resolution 1 us/cm

$

119.00

(1/ea)

24L6977

ST20C-C Pen Conductivity Meter, Range 0-19.99 ms/cm; 0-99 C, Resolution 10 us/cm

$

119.00

(1/ea)

24L6978

ST10T-A Pen TDS Meter, Range 0-100.0 mg/L, Resolution 0.1 mg/L

$

92.00

(1/ea)

24L6979

ST350, pH Electrode with Temperature, 1/each

$

174.00

(1/ea)

24L6980

ST10T-B Pen TDS Meter, Range 0-1000 mg/L, Resolution 1mg/L

$

92.00

(1/ea)

24L6981

ST20T-A Pen TDS Meter, Range 0-100.0 mg/L; 0.0-99.0 C, Resolution 0.1 mg/L

$

119.00

(1/ea)

24L6982

ST20T-B Pen TDS Meter, Range 0-1000 mg/L; 0.0-99.0 C, Resolution 1 mg/L

$

119.00

(1/ea)

24L6983

ST10S Pen Salinity Meter, Range 0-10 ppt, Resolution 0.1 ppt

$

81.00

(1/ea)

24L6984

ST20S Pen Salinity Meter, Range 0-80 ppt; 0-99 C, Resolution 0.1 ppt

$

119.00

(1/ea)

24L6985

ST10R Pen ORP Meter, Range -1000-1000 mV, Resolution 1 mV

$

133.00

(1/ea)

24L6986

ST20R Pen ORP Meter, Range -1000-100 mV; 0-99 C, Resolution 1 mV

$

178.00

(1/ea)

24L6987

ST20D Pen Dissolved oxygen meter, Range 0-80 ppt, Resolution 0.1 mg/L

$

415.00

(1/ea)

24L6988

ST20M-B Pen Multi Meter, Range pH 0-14; Conductivity 0…1999 us/cm TDS 0…1000 mg/L, Resolution 0.01 pH, conductivity 1 uS/cm, TDS 1 mg

$

129.00

(1/ea)

24L6989

ST20M-C Pen Multi Meter, Range pH 0-14; Conductivity 0…19.99us/cm ,salinity 0-10 ppt, Resolution pH 0.01, conductivity 0.01 mS/cm, salinity 0.1 ppt

$

129.00

(1/ea)