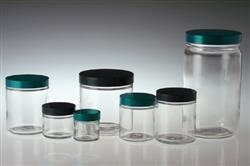 Clear (Flint) Straight Sided Round Glass Jars are designed without shoulders for maximum storage capacity and content visibility. These multipurpose jars are very versatile. Available in a variety of sizes, from 1oz to 32oz. Also available in tall/slender style in 8oz and 16oz sizes.
Closures (attached):
* Green thermoset (phenolic) caps are known for providing the widest range of chemical compatibility and for being the most temperature tolerant of plastic closures. Uses include analytical lab samples, high purity chemicals, strong acids solvents, environmental samples, pharmaceuticals, and diagnostic reagents.
* SturdeeSeal® PE Foam Lined Caps are known for good impact strength, cost effectiveness, and pliability. These polypropylene closures have excellent sealing characteristics and offer good chemical resistance including acids, alcohols, alkalis, aqueous products, cosmetics, household oils and solvents.
* Black phenolic (thermoset) caps with pulp/vinyl liners are perfect for general use. This closure is commonly used for food, beverage, medical and chemical applications packed at less than 120° F. Not recommended for active hydrocarbons or bleaches.
SKU
Description
Closure
Size
Price
Buy
22L3826

8oz. Straight Sided Round w/Attached Closure

SturdeeSeal PE Foam-lined

70-400

$

53.00

(24/case)

22L3832

16oz. Straight Sided Round w/Attached Closure

SturdeeSeal PE Foam-lined

89-400

$

39.00

(12/case)