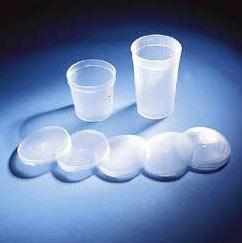 Disposable/reusable specimen containers work great for handling samples. These durable, translucent, polypropylene containers resist acids, bases, most organic solvents, and common laboratory reagents.
Dual graduations in ounces and milliliters are internally molded making them easy to read. Graduation are in increments of 1oz. and 20mL.
A tight-fitting polyethylene snap lid is easy to attach and remove and provides leak-tight seal.
*Flexible packaging:
Individually bagged sterile containers with lid where required.
Bulk sterile or nonsterile for general and industrial use.
SKU
Description
Price
Buy
02L4539

4 1/2 oz. Sample Container w/o Cap

$

117.00

(500/CS)

02L4540

8 oz. Sample Container w/o Cap

$

117.00

(500/CS)

02L4541

Snap Cap for Sample Container 4 1/2 & 8 oz. (02L4539 & 40)

$

57.00

(500/cs)

05L4500

8 oz. Sterile Container with Snap Cap

$

94.00

(100/case)

05L4503

8 oz. Sample Container w/o Cap

$

126.00

(500/case)

05L4504

Snap Cap for Sample Container 4 oz. & 8 oz.

$

99.00

(500/case)