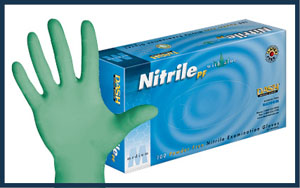 Textured, Green, Nitrile Powder-Free Examination Gloves with Aloe Vera.
* Aloe-lined inner surface makes this glove a perfect solution for dry, irritated hands.
* Puncture-resistant and fully textured for an enhanced grip.
* Protein and Powder free.
* Approved for use with chemotherapy drugs.
Prices subject to change, contact us at [email protected] for current pricing.
SKU
Description
Color
Size
Price
Buy
05L3704

Nitrile Glove with Aloe,S, 10 packs/case.  Temporarily discontinued.

Green

Small

$

20.00

(100/pack)

05L3705

Nitrile Glove with Aloe,M, 10 packs/case.  Temporarily discontinued.

Green

Medium

$

20.00

(100/pack)

05L3706

Nitrile Glove with Aloe,L, 10 packs/case.  Temporarily discontinued.

Green

Large

$

20.00

(100/pack)

05L3707

Nitrile Glove with Aloe,XL, 10 packs/case.  Temporarily discontinued.

Green

Extra. Large

$

20.00

(100/pack)