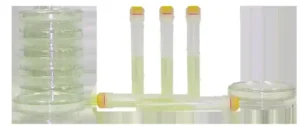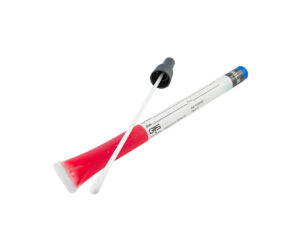 The surface is wiped with a cellulose swab and any bacteria collected are transferred via the swab into a tube containing a special medium with an indicator dye, which is then incubated.
This means that SwabCheck™ is about 1000 times more sensitive than the conventional ATP method. This accuracy is particularly important in the food industry.
With this simple method, it is possible to identify microorganisms such as Listeria monocytogenes, which must not be present in any concentration in food and beverages.
SKU
Description
Price
Buy
31L2036

Neutralizing Buffer Swabs, 4ml  LEARN MORE

$

256.00

125/Pk

31L2037

Neutralizing Buffer Swabs, 4ml  LEARN MORE

$

979.00

500/Pk

31L2038

Buffer Swabs, 4ml  LEARN MORE

$

245.00

125/Pk

31L2039

Buffer Swabs, 4ml  LEARN MORE

$

979.00

500/Pk

31L2040

SwabCheck, 4ml  LEARN MORE

$

575.00

125/Pk

31L2041

SwabCheck Escherichia coli, 4ml  LEARN MORE

$

597.00

125/Pk

31L2042

Total Count Swab Kit  LEARN MORE

$

232.00

30/Pk

31L2043

Yeast and Mold Swab Kit  LEARN MORE

$

232.00

30/Pk

31L2044

Coliform SwabCheck, units ready to use  LEARN MORE

$

268.00

25/Pk

31L2045

Hygiene SwabCheck, units ready to use.  LEARN MORE  

$

268.00

25/Pk

31L2046

Listeria SwabCheck, units ready to use.  LEARN MORE

$

268.00

25/Pk

31L2047

Polywipe Sponge, ready to use, single packed  LEARN MORE

$

329.00

50/Pk